StratusPower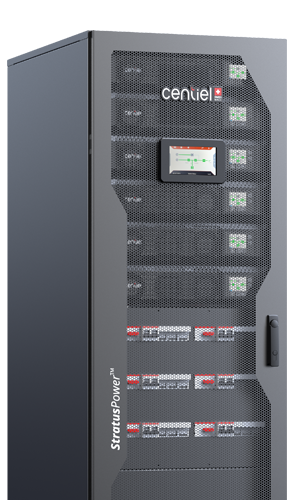 StratusPowerTM
Designed with the future in mind
Modular three-phase UPS 50 kW to 3.75 MW
StratusPowerTM
The ultimate UPS for net-zero data centers
StratusPower is a state-of-the-art UPS system specifically designed to meet the rigorous demands of data center operators, providing complete peace of mind when it comes to power availability and sustainability. StratusPower is highly scalable which makes it an excellent choice for data centers of various sizes. Whether you have a server room or a massive data center, you can customize your StratusPower system to meet your specific needs. The three-phase modular UPS covers the power range from 50 to 1,500 kW in one cabinet and can be paralleled for 3,750 kW of uninterrupted, clean power. With an industry-leading voltage and frequency independence (VFI) efficiency of 97.6 percent and a flat efficiency curve - based on a widely proven semiconductor technology - StratusPower delivers high efficiency and low energy losses, reducing heat generation and, thus, the size and cost of your cooling system.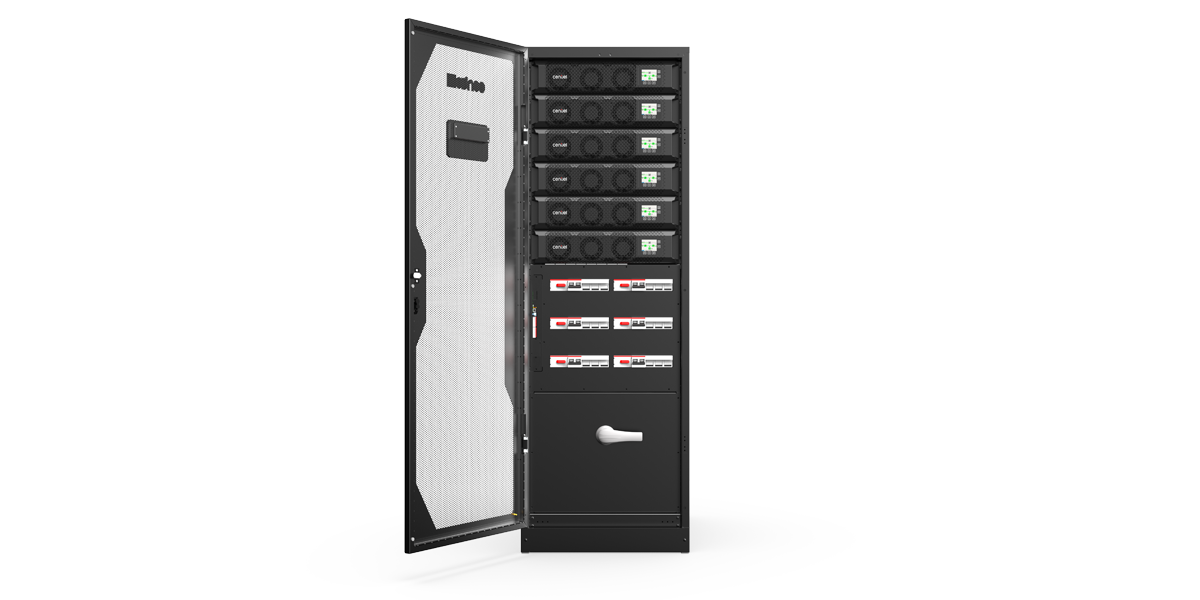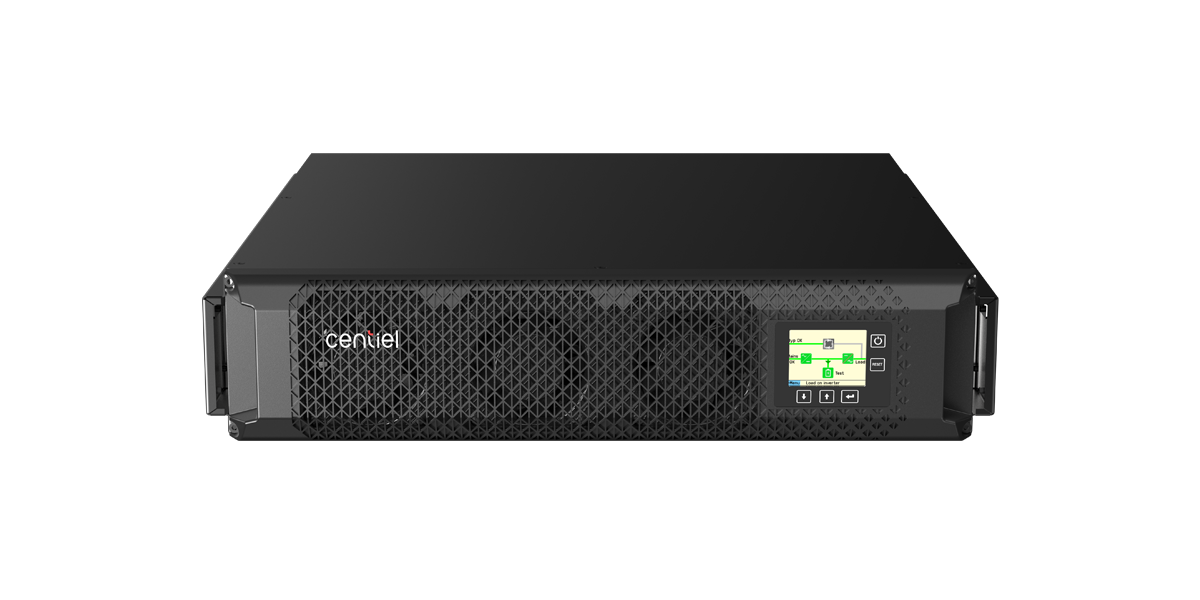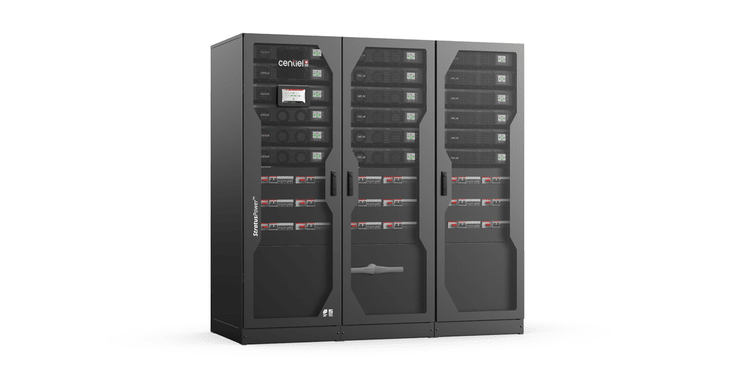 Swiss made

designed and manufactured

No Single point of failure

99.9999999 % availability

Fully distributed

DARA - full redundancy

From 50 kW - 1.5 MW

in a single-connection cabinet

97.6 %

VFI efficiency

Low TCO

15 years caps and smart fans

Smart energy

peak-shaving, self-test

714 kW/m²

space-saving footprint

Fully connected

easy to read info in App, SNMP, Modbus, temperatures, alarms and full range of options available
The StratusPower product offering:
DC Flex technology

 Unparalleled flexibility when it comes to battery storage installation and configuration, as well as preparing the infrastructure to manage both current and future energy sources

read more

close

 Flexibility to select the number and type of battery blocks  Various battery storage devices, allowing you to choose the option that best suits your needs and budget

The low total cost of ownership solution

A properly sized UPS delivers all the power needed virtually instantaneously, there is no need to oversize the system. Batteries are charged quickly so there is no need to oversize the battery string either. This highly efficient approach also reduces cooling costs.

read more

close

With its fully modular and distributed design, it provides unparalleled reliability, uptime, efficiency and easy serviceability.

Robust and reliable inverter design

At Centiel, we take reliability very seriously. That's why we oversize our modules by 24%.With a continuous module operation capacity of 75 kW, the 750 kW StratusPower UPS transforms into a 900 kW powerhouse.

read more

close

The triple-mode parallel bus provides an extra layer of redundancy, eliminating any single point of failure in communication between frames and modules Full flexibility to connect either a single input power source, like a generator or utility power, or dual input power sources for maximum redundancy and reliability. The StratusPower boasts a reliable, widely proven semiconductor technology, including an inverter physical isolation in case of IGBT failure, ensuring maximum uptime for your critical infrastructure.

Lightweight module and extra-safe

Each module is lightweight, weighing in at only 42 kg,

read more

close

Making installation and maintenance easy and safe.

Extended lifetime:

Design life of more than 30 years

read more

close

Components that don't need to be replaced for 15+ years This helps reduce waste, making it a sustainable choice for any data center operator
DARA - Take your power availability to the next level
When it comes to availability, it's what's inside that counts
It is essential to have a UPS system that you can rely on to keep your critical infrastructure up and running 24/7. That's where DARA comes in. DARA stands for Distributed Active Redundant Architecture, and it's the technology that powers StratusPower. With DARA, you can be confident that your data center will have the highest level of protection against power outages and other electrical disruptions.
In DARA, all modules collaborate to make critical decisions to secure your load remains energized. This process involves teamwork among the modules, with multiple controllers ensuring redundancy and efficiency in delivering maximum energy security in the event of a power failure. This approach enables the UPS to make informed decisions that optimize power supply, minimize downtime and safeguard critical loads.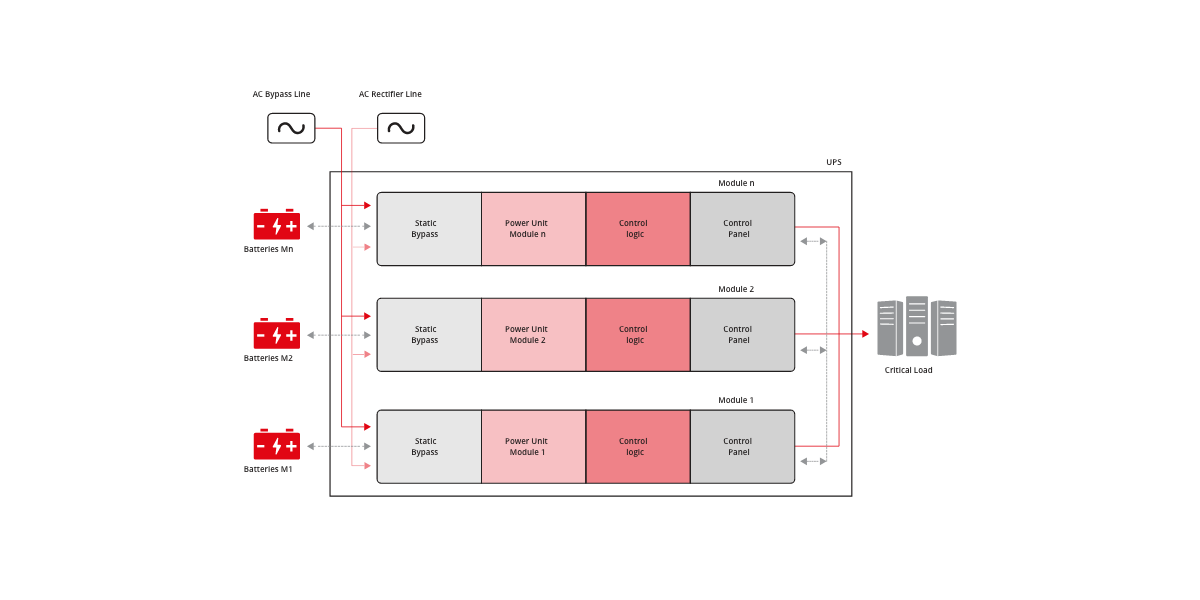 Mean time to repair (MTTR)

DARA's technology on the frame level has been designed to accommodate non-intrusive maintenance and to minimize mean time to repair (MTTR), ensuring that any downtime is kept to an absolute minimum. For example, in the event of a power failure, fuses and switches can be quickly accessed without removing modules.
Powering sustainability
StratusPower – not only a reliable and efficient power protection solution but also a sustainable choice for your critical infrastructure.
At Centiel, we are committed to minimizing our impact on the environment and promoting sustainability in all aspects of our business.

Energy efficiency

Industry-leading voltage and frequency independence (VFI) efficiency of 97.6 percent Flat efficiency curve

Eco mode

Eco mode boasts an industry-leading efficiency of 99.4 percent Enables it to detect changes in load and switch to a different operating mode with a reaction time of under 2.5 milliseconds

Correct sizing of UPS and batteries

Because the properly sized UPS delivers all the power needed instantaneously, there is no need to oversize the system Further, batteries are charged quickly so there is no need to oversize the battery string either

Maximum efficiency management

StratusPower incorporates maximum efficiency management (MEM) – a user-enabled intelligent feature that matches module numbers to load demand This optimizes energy consumption at low-load conditions

Eco-friendly material and processes

The UPS is manufactured using eco-friendly materials and processes This ensures that our products have minimal impact on the environment