EssentialPower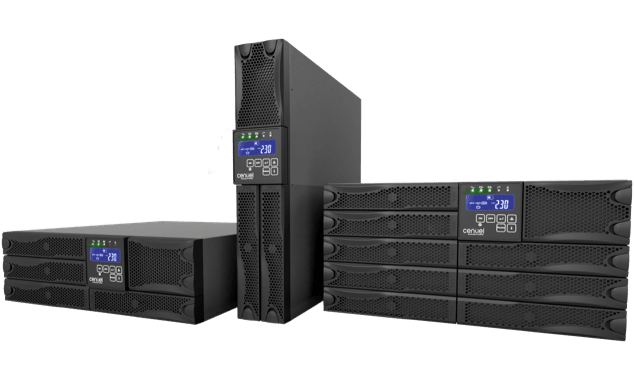 EssentialPowerTM X1 RT
The Single Phase
from 1 to 20 kVA
EssentialPowerTM, The Single Phase
EssentialPower is the online, true double-conversion, single phase Uninterruptible Power Supply.
From 1 to 20 kVA, EssentialPower provides the most flexible and reliable solution ideal for small network devices, servers, point-of-sale, work station clusters and light-industrial installations. EssentialPower satisfies any entry-level mission critical application demanding high availability and flexibility.
Flexibility for Any Application
From 2U to 5U, mono-mono or Tri-mono, EssentialPowerTM can be used as standalone Tower or Rack-mounted UPS on any mission critical application. EssentialPowerTM offers built-in internal batteries from 1 to 6kVA, and the possibility to connect up-to 4 matching battery cabinets for autonomies of up to 4 hours.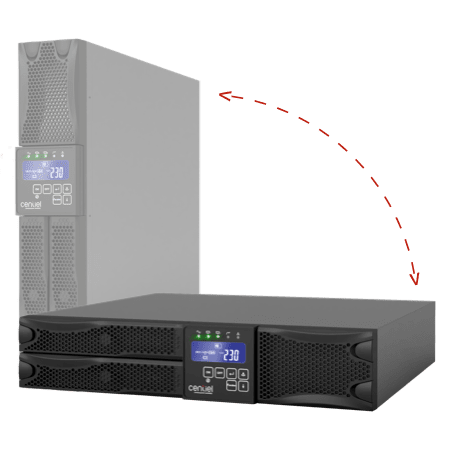 Benefits
Standalone Tower or 19" Rack-mount configurations

Connectivity: USB, RS-232, potential-free contacts

EPO contact inputs for remote shutdown

Cold start

Parallel operation from 6 kVA to 20 kVA

Frequency converter operation (50 Hz or 60 Hz)

Connect up-to 4 battery modules to achieve hours of autonomy times

Rotatable display
Connectivity
With a variety of options, like, communication cards, Expansion relays, SNMP and ambient monitoring applications, Essential PowerTM can be easily integrated into any environment and building management system.
Reliability
True-Online double conversion, pure sinewave output

Reliable digital power conversion architecture

Wide Range Input Window from 110 - 300Vac

Extended battery life I – U (DIN 41773)

Patented Backup Runtime Estimation on LCD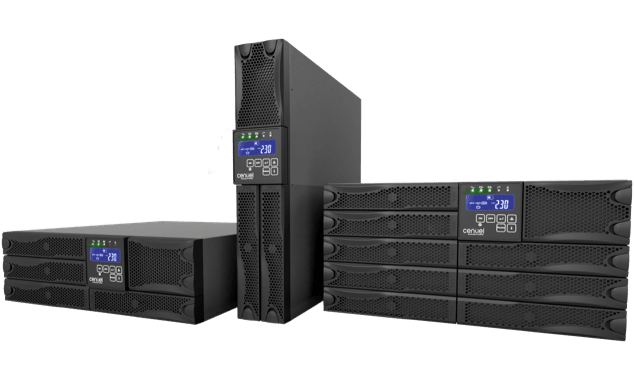 Ease of Service
Frontal access battery replacement

Clean and clear user-friendly display

Records event log and alarms up to 500

Personalization & Intelligent Self-diagnostic

Easy Firmware Flash Upgrade

Manual maintenance bypass switch (optional)
Standalone or Rack-mount Configurations
1-6 kVA
2U
10 kVA
3U
6 kVA with Batteries
4U
15-20 kVA
5U
Battery Autonomy
2U
EPBAT12 | EPBAT06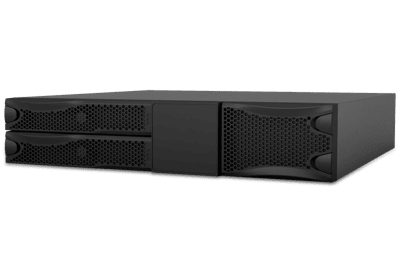 EssentialPowerTM 11RT
UPS TYPE

1kVA


UPS-EP001-11-I03-2U
UPS-EP001-11-I03-2US

2kVA


UPS-EP002-11-I06-2U
UPS-EP002-11-I06-3US

3kVA


UPS-EP003-11-I06-2U
UPS-EP003-11-I06-4US

6kVA


UPS-EP006-11-E-2U
UPS-EP006-11-I20-4U

10kVA



UPS-EP010-11-E-3U
Battery Cabinet
CAB-EPBAT06-I00-2U
CAB-EPBAT12-I00-2U
CAB-EPBAT12-I00-2U
CAB-EPBAT20-I00-3U
CAB-EPBAT20-I00-3U
Battery Type
7Ah / 9Ah
7Ah / 9Ah
7Ah / 9Ah
7Ah / 9Ah
7Ah / 9Ah
UPS
5 / 7
5 / 7
<3 / 4
N.A.
N.A.
UPS + 1 EPBATxx
27 / 35
25 / 32
15 / 20
6 / 8
3 / 4
UPS + 2 EPBATxx
54 / 69
50 / 64
31 / 40
17 / 22
8 / 11
UPS + 3 EPBATxx
83 / 106
77 / 98
49 / 63
30 / 39
15 / 19
UPS + 4 EPBATxx
114 / 146
96 / 135
68 / 87
44 / 57
23 / 29
3U
EPBAT20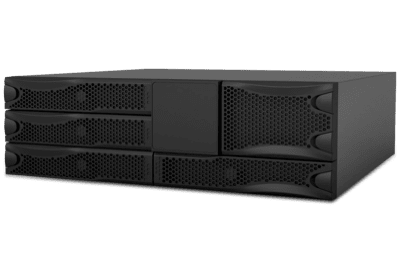 EssentialPowerTM 31RT
UPS TYPE

10kVA


UPS-EP010-31-E-3U

15kVA


UPS-EP015-31-E-5U

20kVA


UPS-EP020-31-E-5U
Battery Cabinet
CAB-EPBAT20-I00-3U
CAB-EPBAT20-I00-3U
CAB-EPBAT20-I00-3U
Battery Type
7Ah / 9Ah
7Ah / 9Ah
7Ah / 9Ah
UPS
N.A.
N.A.
N.A.
UPS + 1 EPBATxx
3 / 4
<2 / 2
<1 / 1
UPS + 2 EPBATxx
9 / 12
5 / 7
3 / 4
UPS + 3 EPBATxx
17 / 22
9 / 12
6 / 8
UPS + 4 EPBATxx
25 / 32
14 / 18
9 / 12